The EMU Admin Client gives EMU Server Administrators the ability to enable/disable client channels, as well as define minimum allowed versions in the environment. This is useful in the case where you want to require an update for any reason. It is recommended to keep these settings within close range with your server's versioning as updates are released, however, there may be cases where some security related update is released for the client where you would want this set higher. Each client channel's version is controlled independently as well, allowing for required testing of higher Beta builds in your environment without impacting your Stable channel clients.
Controlling Client Channels and Versions
To control client channels and versions in your environment, simply configure the desired version in X.X.X.X format for each client channel, and enable or disable the client channel accordingly.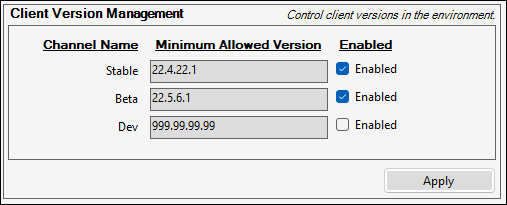 More Information
Client Version checks are performed by clients at startup, as well as every 30 seconds while running.  This allows EMU Server administrators to disable a client channel and feel confident no one is using it or ensure current usage of a client channel is occurring with the minimum desired client version specified.